Accelerating Early Childhood Education in Crisis and Conflict Settings
|
September 15, 2021
|
9:00 am to 10:00 am (America/New_York)
Image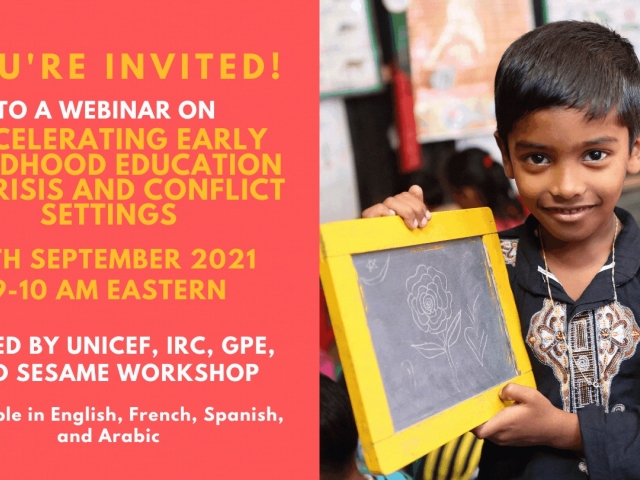 Taking place on 15 September 2021, this webinar will highlight evidence and the urgent need for prioritizing and investing in quality early childhood education and development in crisis and conflict-affected contexts.
A multi-perspective panel of representatives from national ministries, the humanitarian response system, and education investors will explore the challenges and opportunities for national decision-makers in data mapping and education sector planning and analysis.
The webinar will consist of opening and closing remarks by senior representatives from UNICEF, GPE, and Sesame Workshop. The webinar will include a moderated panel discussion led by the Global Education Cluster, and consisting of representatives of ministries of education from Colombia and Jordan, along with humanitarian education experts from The World Bank, Sesame Workshop, the United Nations.
For more information on speakers and resources, visit our event website.